Male strippers or CFNM (Clothed Female, Naked Male) shows are some of the most popular forms of women's entertainment. Since the 1980s, women have been screaming and squirming in their seats at extravaganzas featuring male strippers, and the enthusiasm for such entertainment doesn't look like abating.

Often known as male revues, or adult dance shows, male strip acts usually feature a troupe of well-muscled good looking men dancing while removing pieces of their outlandish outfits, but most do not involve full male nudity. A thong and a hint of pubic hair is all the audience get to glimpse.
Nonetheless, women love it. Male strip shows are characterised by screaming, giggling, tipsy throngs of everyday women, released from propriety for the night and letting their hair down. It's an opportunity to turn the tables, to ogle male flesh in the same way that men have ogled them for years. It's an excuse to behave badly. It's a laugh.

It's also a celebration of female sexuality. There aren't many other places where women can be so open about appreciating the male form, or where it's accepted that women can be eager sexual beings.


Male strip shows are very different from the standard female striptease act. Women will almost always watch in a group rather than alone, and the shows are often staged in large theatres, as opposed to the standard sleazy backstreet "Pink Pussycat" venue. The emphasis is more on fun and feeling sexy, and everyone is keen to point out how "tastefully" it's done.
Male strippers provide an excuse to behave badly. It's a laugh.
The Chippendales are the best known group of male strippers. This troupe have been performing since the early 80s and have spawned various clubs, travelling strip shows and even TV shows. Manpower is also well known. This group originated in Australia and found success in the US and UK.

Male strippers found screen fame in 1997 when The Full Monty became a box office smash hit. The film is about unemployed men who decide to go where the Chippendales won't, and take it all off (the "full monty"). Despite being flabby, unfit, average guys, the show is a huge success, and, perhaps ironically, the men discover dignity through stripping.

The Full Monty went on to inspire all sorts of amateur male strip shows, often performed for charity, all over the world.

Male strippers have become something of a tradition at bachelorette parties (sometimes known as hen's nights). Often the stripper is booked as a surprise, although sometimes to bride-to-be will pay for him herself. "I didn't want to miss out, you know," says Jackie, remembering her own bachelorette party where an impressive black man stripped for her 35 guests. "I wanted to make it a memorable night, and the girls just loved it. Besides, who knows what Rick got up to at his party!"

In Britain, male stripping is known as CFNM (Clothed Female, Naked Male) and is extremely popular there. They even have a website devoted to videoing CFNM shows and putting them online. You'll find heaps of pics, profiles and movies of CFNM strippers at Serial Thrillas British Strippers.

It would be fair to say that male strippers aren't about to go away; indeed, their popularity is growing. As women become more assertive about their sexuality, we can expect a greater number of male strip shows and clubs popping up across cities and towns everywhere.

Click here to see some sexy male strip show videos at For The Girls!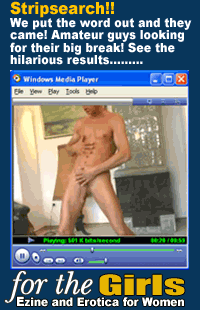 Strip Search!

What happens when you gather a bunch of amateur guys and tell them to put on an impromptu strip show in their living rooms? You get the hilarious strip search videos at For The Girls. Watch every day guys put on their best act while taking it all off!

Plus, this new women's erotica site has interviews with real male strippers and videos of actual strip shows in Britain!

For The Girls has heaps of naked men, couples pics, articles, sex advice, sex stories and fun stuff.

For Fun, For Pleasure, For Play.
For The Girls Ezine and Erotica for Women
---


The Full Monty DVD also features the entire UK and US soundtracks.
US zone DVD available from Amazon.com


---